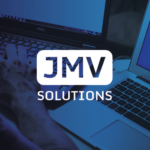 Website JMV Solutions
A small but powerful team of IT and Communication experts.
Massive opportunity for the right person.
We need people to join our team, get involved, wow customers with amazing service and provide technical support for Microsoft technologies to business clients throughout Devon, Cornwall and further afield.
You'll be communicating directly with new and existing customers every day, making and drinking lots of coffee, wondering why the office is a different layout and helping test new products to release to our clients.
The most important job you'll do is support our customers so that we become the most valuable service partner they'll ever have.
And don't think you'll be stuck in the same job role… There are opportunities to hold ladders in fields, decommission servers and give the office dog a belly rub once a week and much more if your want a break from the norm.
Skills and experience are obviously important but it's most important that we find the right person to join our team. In fact, you could say we're looking for a hero.
Minimum 2 Years Experience in commercial / business IT support absolutely required.
Experienced with Windows Operating Systems – including configuration, restoring, builds, system updates and troubleshooting.
Able to diagnose and fix problems with network routers, switches etc…
Looking to make a difference and help a business grow
Client communication through emails and phone
Great knowledge of Office 365 – support and migrations
Great phone manner
Understanding of networking and VOIP
Continue work on tickets from 1st line
New user setup / removal
Proactive support – Computers, networking, Backups
Assisting software applications and 3rd parties
Client onboarding
Assisting on projects
Server, network andM365 changes and migrations
Work closely as part of a team supporting our clients
We're a small but ambitious team and this job role really will allow you to make a difference in a business where you can be whoever you want.
If you're looking for a challenge, a new place to work and in a business that is looking to continue our rapid expansion you have it…. GET IN TOUCH.
IT Support: 2 years (Required)
Office 365: 2 years (Required)
Windows and Server Support: 2 years (Preferred)
Education:
Diploma of Higher Education (Preferred)