Need to run a hybrid in-person + on-line event?
Want to up your streaming game?

Why not borrow our broadcast kit! Everything you need, in one easy-to-use collection of gear. Minimal faff, Maximum results!
Ways you can use it
Run hybrid in-person + streamed online events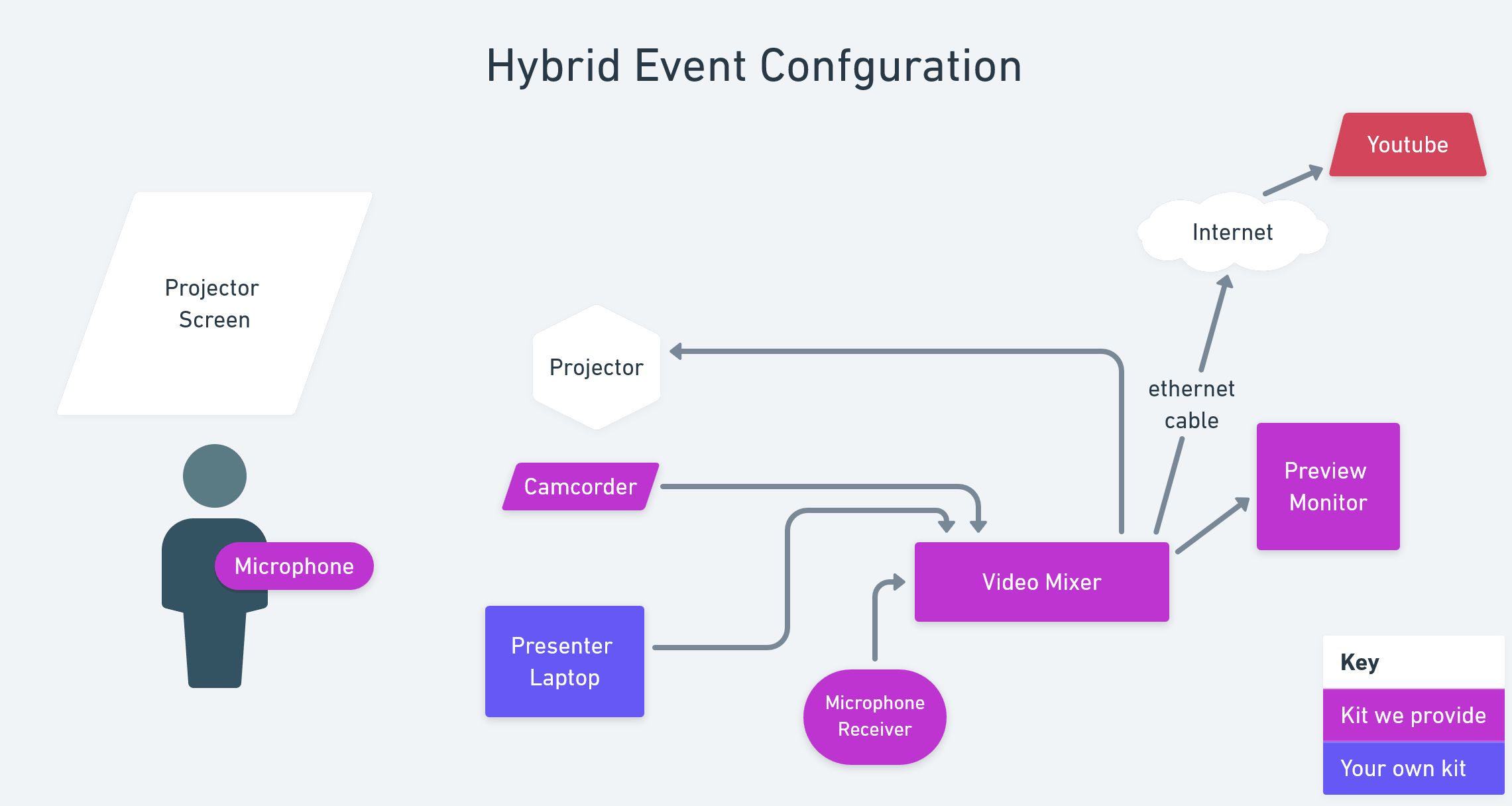 Use the video mixer to capture your normal projector feed, whilst adding a video camera feed using picture-in-picture for your live-streamed remote audience, so they can see both the presenter and the slides. Use our radio microphones for super-clean audio, and get an mp4 archive of everything stored to the USB hard drive.
Youtube / Twitch streaming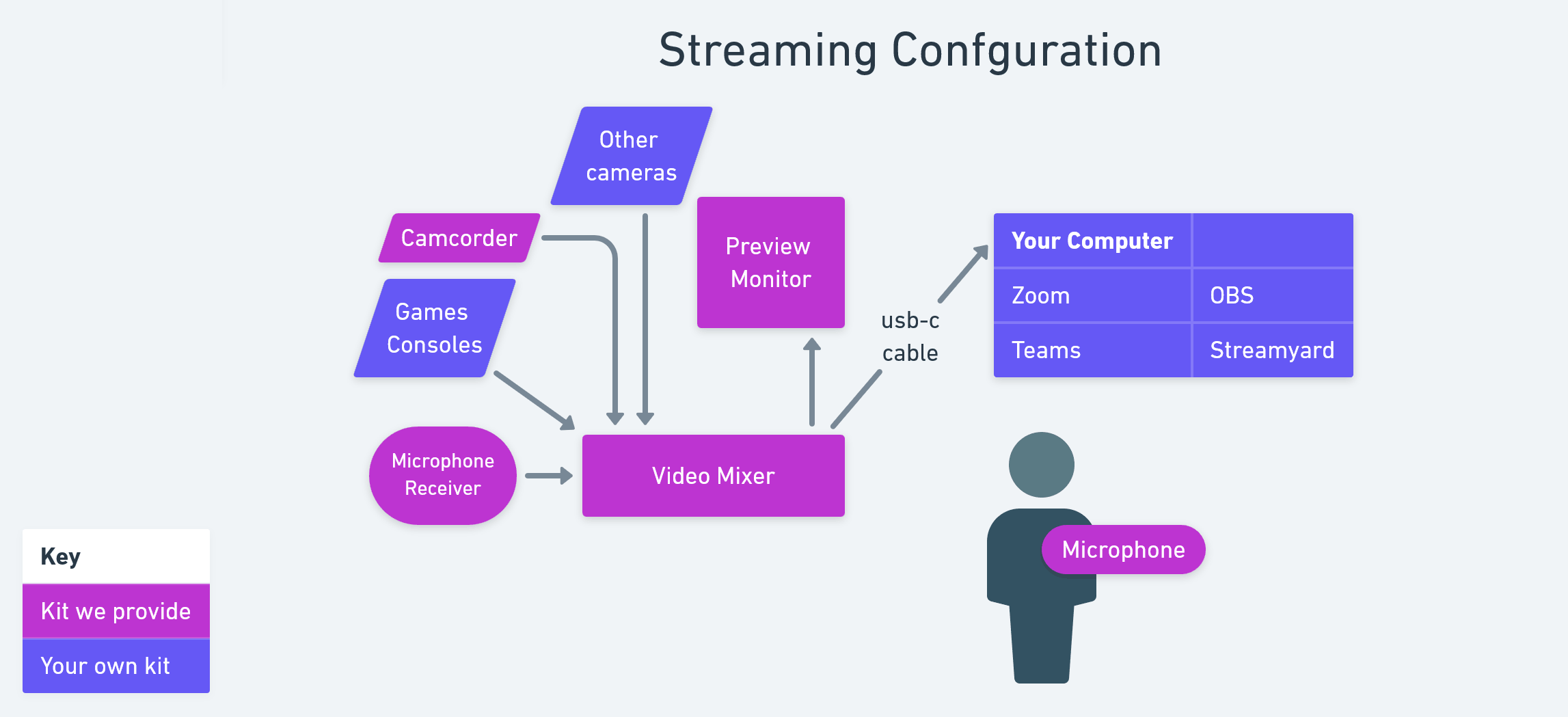 Seemlessly switch between multiple cameras (DSLR camears, camcorders, GoPros), games consoles (Xbox, Playstation, Nintendo Switch), laptops / Desktops…. anything that can provide a HDMI output! The video mixer will up-scale all input sources to 1080P/60. Look like a pro with picture-in-picture modes, wipes and fades.
Zoom / Teams calls
Connect your own DSLR camera to the video mixer, and use the USB-C cable provided to use it as a webcam on your laptop – for instant pro image quality and depth of field to your conference calls.
Multi-angle performance recordings
Connect up 8 videocameras to the video mixer and record all inputs simultaniously, plus switch between cameras during recording at will to record a seperate program output showing your selected camera.
Chroma-keying / virtual backgrounds
Use a green screen and the video mixer's chroma-key controls to superimpose your image over any HDMI video feed.
Kit List
The kit comes in 3 boxes, each contains a re-packing guide and the main box has a 'how to' guide for the most common scenarios.
Box 1:
BlackMagic Atem Mini Pro Extreme ISO
8 input HDMI video mixer, 2x HDMI + USB-C video output.
Canon Vixia HF R800 Camcorder
Portable HDMI monitor
for monitoring your video input feeds
USB HDD drive
for storing your videos offline
USB Power adapters
5 port gigabit network switch
Cabling
Box 2:
Rode Wireless Pro II microphone set
2x wirless radio microphones and a receiver, plus cables and 1x lav mic.
Box 3:
15m HDMI cable
For connecting up the camcorder
Power cables, ethernet cables, extension leads
Tripod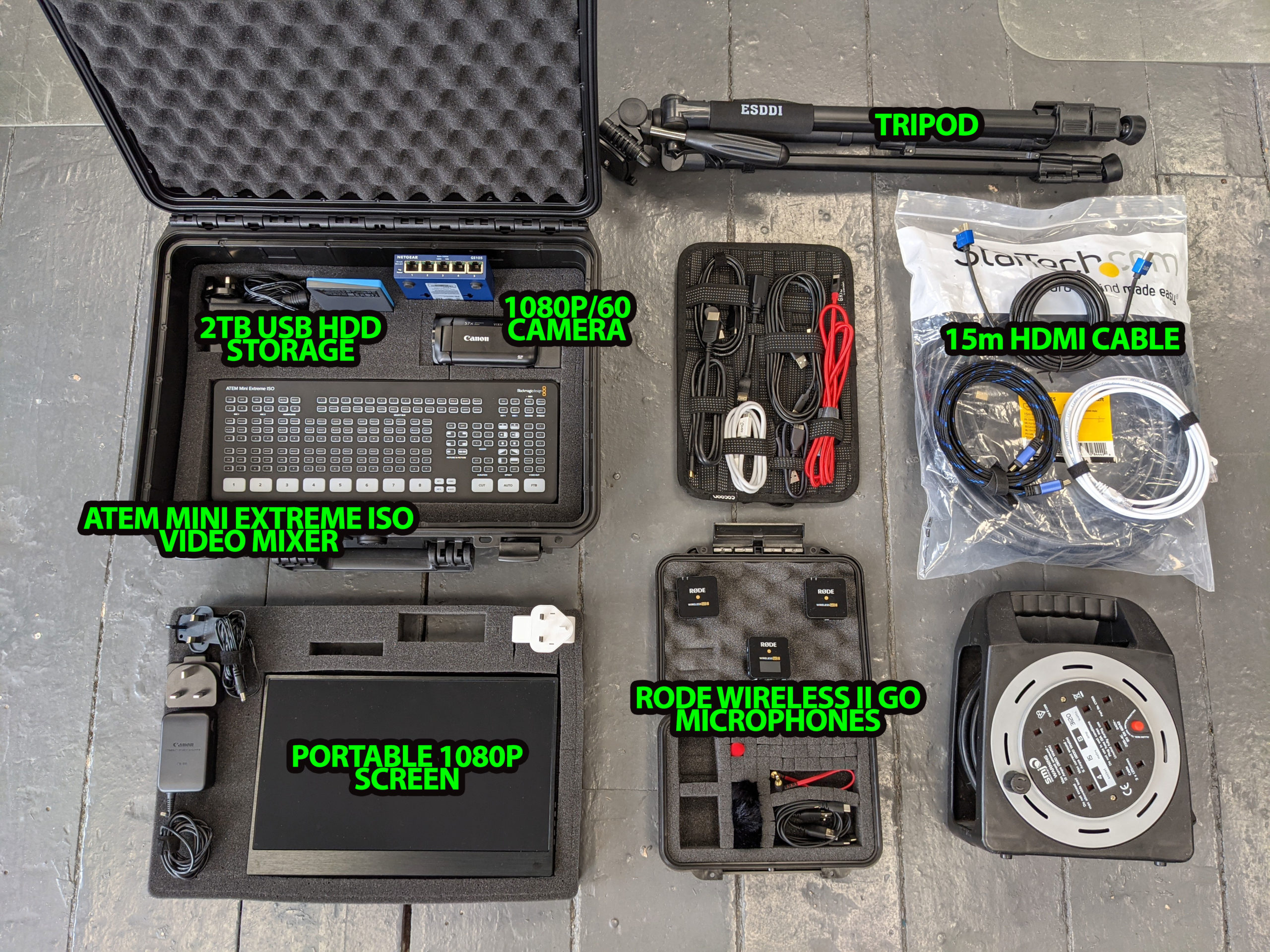 Benefits
Re-cut your footage
The video mixer can simultaniously record all HDMI video and microphone inputs independently alongside the final output, to the inclued USB HDD. This means you can re-cut your footage after your broadcast is finished, should you wish to change the inputs / cameras used.
No audio drop-out
The wireless radio microphones also record all their audio on the transmittters, so this audio can be recovered if there are radio transmission problems.
Want to borrow / rent this kit?
Just get in touch using our contact page. All requests considered. Our aim is to provide this kit free of charge to those who need to borrow it, and as a low cost rental to those who can afford to help contribute to our running costs!
FAQ
Q. What internet connection do i need?
A. The setup is optimised for a wired ethernet connection, but you can also connect a phone to the USB-C connector and share your 4G/5G internet connection if your phone allows internet sharing.
Broadcasting 1080P footage at 30fps normally requires 6-8mbps upstream.
Q. Do i need a computer to use this kit?
A. No – the kit doesn't need a laptop/computer to operate, however we would need to pre-populate the youtube / twitch stream key by configuring ahead of time. If you do have a laptop computer, you can use the software provided to activate advanced features like sound EQ / compression, chroma-keying and custom images.
Q. Can this be used in a non-fixed location (i.e. in the street / in a field)?
A. Whilst the kit could be powered from a large battery / generator, it's best suited to being run from a mains supply. If you want to broadcast entirely mobile, then using a phone is probably easier in the long run! (but you could use our wireless microphones too)